.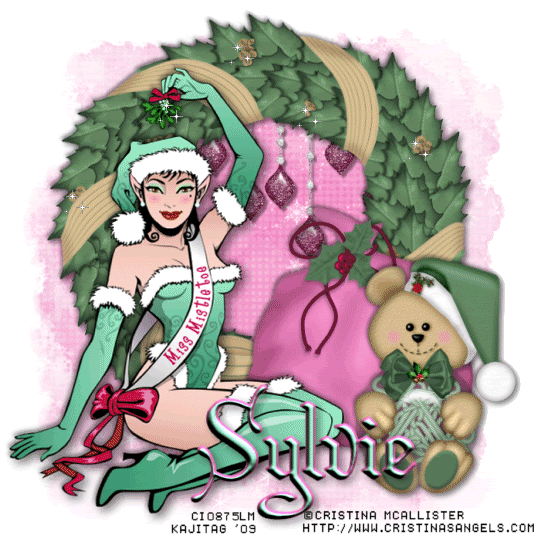 [Click image above to go to full sized image.]
This tutorial was written on December 14, 2009, using Paint Shop Pro, version X.03. It should be okay to do with other versions as well. I just find X.03 more comfortable for me. You may download a free trial of Paint Shop Pro, version X2, from Corel. Any similarities between this tut and any others you may see are purely coincidental.

You will also need:

Animation Shop. This is from CNET, so it's a safe download. However, it costs. That changed pretty recently. I don't know why!!

Alternatively, I had two people point out to me that one might find Animation Shop for free at this location. This is an FTP link and I have no idea if it's safe or not. So keep your antivirus handy to scan it after download!

A tube of your choice. I used the cute artwork of Cristina McAllister. You must have a license to use her art. You may obtain that license and her art from C.I.L.M. The location for this specific tube is here.

The scrap kit is by Sylvie, from Fantasy Moments. This is a FTU kit, called Last Christmas. As always, leave some love for the freebies!!

Supplies: The mask and the sparkle animation, which you may find here. The mask is by the prolific Becky, the whereabouts of whom I do not know. And I don't know who did the sparkly animation. If it is yours, let me know and I will give you proper credit!!

Other than that, please, if you have problems with any download link for supplies, drop me a line via e-mail. Leaving a comment without a way for me to contact you back doesn't help. If you e-mail me, I'll send you the supplies.

Filters: None!

Font: I used Christmas Card.

Okay, let's get this started! This is pretty much a cut-n-paste tut!

Open the mask in PSP and minimize. Alternatively, you can file it with the rest of your PSP masks, for future use! File the sparkly animation to where it will be handy when we get to Animation Shop.

Open a new image, 700 x 700, white.

Add your tube. Resize, position and drop shadow to your liking.

Open Element 6. Copy and paste as a new layer. Resize 85%. Position as you like, behind your tube. I repositioned and changed elements all the way through, 'til I got to these results, so play around! Drop shadow your wreath.

Highlight your white background layer.

Open Paper-25. Copy and paste as a new layer.

Apply your mask. Delete the mask layer, answer "yes" to the pop-up question, and merge group.

Open Element-75. Resize 35%. Copy and paste as a new layer. Position this as you like it, behind your wreath but above the mask layer. Give this a slight drop shadow.

Open Element-24. Resize 65%. Copy and paste as a new layer. Position as you like. Drop shadow.

Open Element-29. Resize 50%. Copy and paste as a new layer. Position, again, as you like. I chose to put it behind the tube and teddy bear, but above the wreath on the right. See my example for placement reference if you like. Drop shadow.

On your top layer, add your name. I used color #92e3bd for the fill, #b8538a for the stroke, stroke set at 3.

I added the following bevel:




Drop shadow your name.

Resize your canvas to a size with which you are most comfortable.

Add your copyright, license information if applicable, and taggers'/watermark.

If you choose not to animate, you're done! Merge your layers and save!! Congrats!


A N I M A T I O N

Edit > Copy merged

Open Animation Shop, right-click on the desktop area and paste as a new animation.

Duplicate this frame until you have a total of 16 frames. Move your slider at the bottom back to the first frame.

Locate and open your "subtle.mng" animation. Edit > Select All. Edit > Copy

Return to your animation that you're building and Edit > Select All. Edit > Paste into Selected Frame.

Hover your mouse over the area you would like your sparkles to be. I chose all the flowery areas of the wreath that can be seen, and the mistletoe. Release the mouse button. Continue to do this until all the areas you like are covered in the sparkles. View > Animation. If you don't like what you see, then Edit > Undo Paste and re-do the paste into selected frame, hovering over a different area. Do this until you like your placement.

View > Animation. Save as .gif and, again! We are done!! Thanks for taking it on! I hope you enjoy your results!


.