.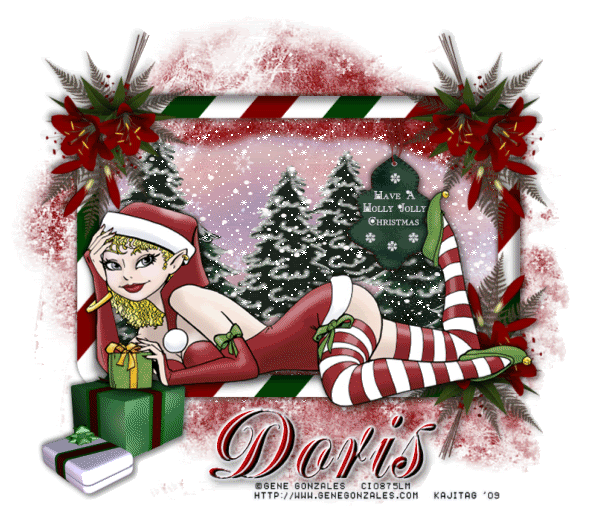 [Click image above to go to full sized image.]
This tutorial was written on December 13, 2009, using Paint Shop Pro, version X.03. It should be okay to do with other versions as well. I just find X.03 more comfortable for me. You may download a free trial of Paint Shop Pro, version X2, from Corel. Any similarities between this tut and any others you may see are purely coincidental.

You will also need:

Animation Shop. This is from CNET, so it's a safe download. However, it costs. That changed pretty recently. I don't know why!!

Alternatively, I had two people point out to me that one might find Animation Shop for free at this location. This is an FTP link and I have no idea if it's safe or not. So keep your antivirus handy to scan it after download!

A tube of your choice. A laying down, or leaning back tube would work the best. I used the artwork of Gene Gonzales. You must have a license to use his art. You may obtain that license and his art from C.I.L.M. Apparently, they're trying to make things "easier" at CILM by putting all winter and Christmas tubes in a different area. Personally, it seems they've made it more difficult. But here's the link to this particular tube, under Winter and Christmas tubes. Hope this helps!!

The scrap kit is by Doris, from Scraps Dimensions. This is a FTU kit, called Deck the Halls. As always, leave love for the freebies!!

Supplies: You may find here. This includes trees, the snow animation and the mask, which was made by Teresa from Boundless Bliss. I'm surprised to find that her site is no longer there! It was the last time I used this mask. Sad to see you go, Teresa. I hope it's a temporary setback. But thanks for letting us use your mask! The snow animation is one I altered from the normal one I usually use. That original snow animation is again, by someone, but I don't know who. Same situation with the trees. It's someone named Pam, probably with the initials of pjs. If anyone knows, let me know and I'll give the artists the proper credit!

I know I've been using this snow a lot, but I really like it!! Sorry. If you're tired of it, leave me a note in the chat box to let me know.

Also, please, if you have problems with any download link for supplies, drop me a line via e-mail. Leaving a comment without a way for me to contact you back doesn't help. If you e-mail me, I'll send you the supplies.

Filters: Eye Candy 4000 > Gradient Glow

Font: I used Greyton Script LET.

Okay, on to the tutorial!

Open your supplies in PSP and minimize. Alternatively, you can file each one with the rest of your PSP files, for future use! File the snow animation to where it will be handy when we get to Animation Shop.

Open a new image, 800 x 700, white.

Open the Frame. Copy and paste as a new layer. Resize 85%.

Add your tube. Resize, position and drop shadow to your liking.

Highlight your white background layer.

Open Paper 7. Copy and paste as a new layer.

Apply your mask. INVERT TRANSPARENCY CHECKED! Delete mask layer, answer "yes" to the pop-up question, and merge group.

Open the "Trees by Pam" file included with your supplies. Copy and paste as a new layer. In your layer palette, this is above your mask layer while below your frame layer.

Grab your pick tool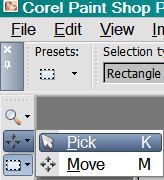 ...and stretch the trees out in both directions (East/West) until they fill the frame nicely behind your tube.

Open Flowers1. Resize 35%. Copy and paste as a new layer. Rotate 20° right. Position on the bottom right corner of your frame. In your layer palette, this layer should be below your tube and above the frame. Drop shadow.

Duplicate that layer and Image > Flip.

Duplicate *that* layer and Image > Mirror. Position correctly in the top left corner of the frame.

Open the Tag file. Resize 35%. Copy and paste as a new layer. Position in the frame the way you think it looks best. Grab your selection tool, set on rectangle, and draw a selection around the tops of the strings, where they go above your frame. Hit delete. Selections > Select none. Drop shadow your tag.

Open the Gift Boxes file. Resize 35%. Copy and paste as a new layer. Position as you like. For mine, I went Image > Mirror, and positioned the gifts below the gift the elf in the tube art is holding. Drop shadow your gift boxes.

Drop shadow your frame layer.

Go back to the top layer and add your name. I used color #7d0000 for the fill and #eceff4 for the stroke, stroke set at at 2.

Add the following bevel: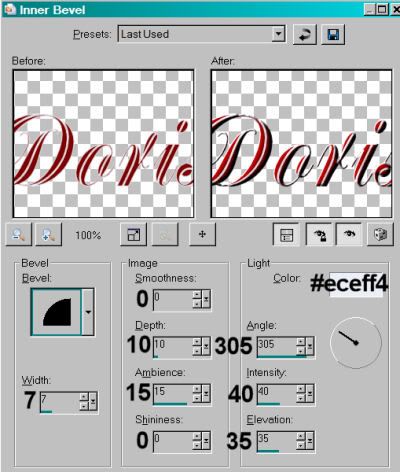 Hit okay.

Add a Gradient Glow of 4 - 25 - 100 in color #eceff4.

Hit okay.

Drop shadow your name.

Add your copyright, license information if applicable, and taggers'/watermark.

If you choose not to animate, you're done! Merge your layers and save!! Congrats!


A N I M A T I O N

Layers > View > None.

Open your bottom three layers. This should be your white background, your mask layer and your trees layer.

Edit > Copy merged

Open Animation Shop, right-click on the desktop area and paste as a new animation.

Duplicate this frame until you have a total of 10 frames. Move your slider at the bottom back to the first frame.

Locate and open your snow animation. Edit > Select All. Edit > Copy

Return to your animation that you're building and Edit > Select All. Edit > Paste into Selected Frame.

Placement with this snow file is a bit trickier than the others. It needs to be, as best you can, contained in the frame, which is not there. It took me a few tries to get it right for me.

Go back to PSP. Layers > View > All. Close the bottom three layers.

Edit > Copy Merged.

Back to Animation Shop. Right-click on the desktop area and paste as a new animation.

Duplicate *this* frame until you have ten. Bring the slider back to the first frame.

Edit > Select All. Edit > Copy

Back to the animation upon which you've put the snow.

Edit > Select All. Edit > Paste Into Selected Frame

Hover your mouse until you have the frame and snow lined up correctly, then release your mouse button.

View > Animation. Save as .gif and, again! We are done!!

.