.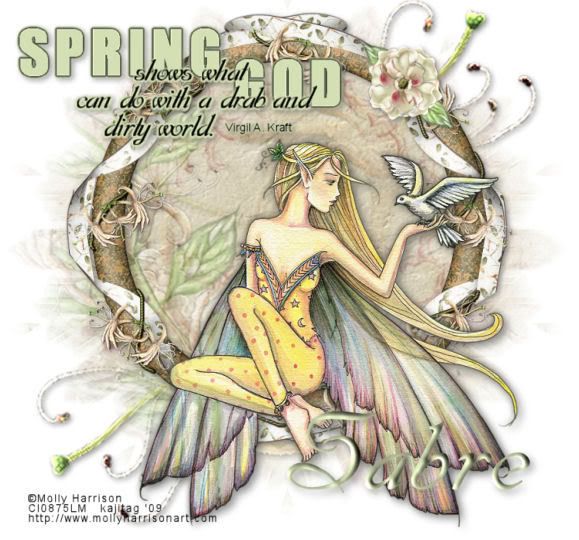 [Click image above to go to full sized image.]
This tutorial was written on January 31, 2009, using Paint Shop Pro, version X.03. It should be okay to do with other versions as well. I just find X.03 more comfortable for me. You may download a free trial of Paint Shop Pro, version X2, from Corel. Any similarities between this tut and any others you may see are purely coincidental.

You will also need:

Tube of your choice. I've chosen to use the delicate artwork of Molly Harrison. You must have a license to use his work. You may purchase that license at CILM.

Scrap kit is by Sabre of The Quill and Parchment. The kit I'm using is FTU and called Honeysuckle Rose. Be sure to leave Sabre some love when you download her art!

Filter: Eye Candy 4000 Gradient Glow

Font: I used 38

Supplies: A mask from Chelle at Wee Scot Lass. I am using her mask WSL_Mask259. Also needed is the word art, something that I created. You can find that here.

Okay, back to it!

Open your word art and minimize in PSP. You can either do the same with the mask, or load it into your masks file (since there are so many, that may be best. That way you'll have 'em when you need 'em).

Open a new file, 700 x 650, white.

Add a new raster layer. Selections > Select all.

Open paper 3. Copy and paste into selection. Selections > Select none.

Apply your mask (WSL_Mask259). Delete your mask layer, answering "yes" to the pop-up question. Merge group.

Open the frame. Copy and past onto your canvas.

Add tube of choice. If yours is sitting like mine, and you find it's a bit long, fiddle around with the placement of the frame and mask to get the tube to fit. Drop shadow.

Drop shadow the frame.

Open honeysucklerose7. Copy and paste onto frame in upper right corner. Drop shadow.

Open the word art. and arrange the layers to your liking.

Grab your magic wand and click inside all the letters of "Spring" and "God." Flood fill with color of your choice. I used #d4dtb4.

Apply Eye Candy 4000 > Gradient Glow on settings 3-25-100 and color of choice. I again used #d4dtb4. I then used Gradient Glow, same settings, but color is black. JUST on the words "Spring" and "God!"

Now go back to the prose part of the quotation (the part in black script) and add Gradient Glow again in the color of your choice. And again, I used #d4dtb4.

Add your name. I used the inner bevel settings below: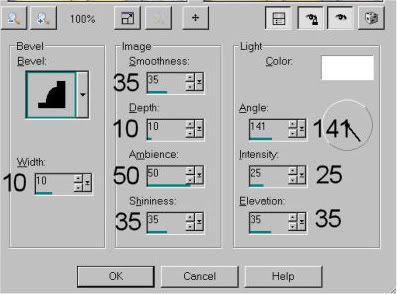 Drop shadow your name as desired. Add your copyright info and license # if applicable. Add your tagger's or watermark, as well.

Save your work, and we're done! Thank you for trying my tut! I hope it was easy to understand! If not, just Drop me a line and let me know!

.