.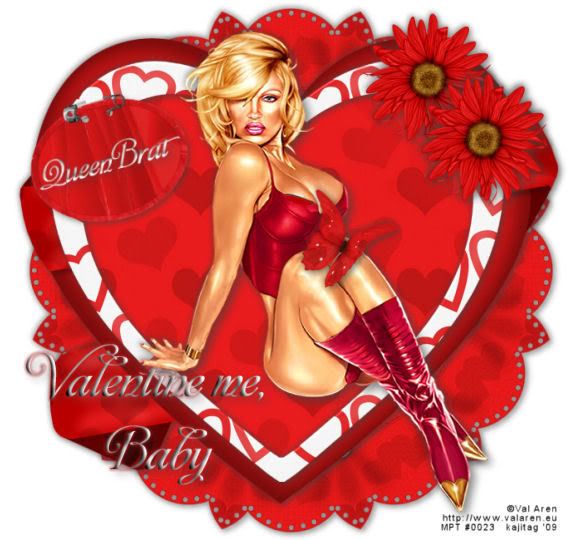 [Click image above to go to full sized image.]
This tutorial was written on February 9, 2009, using Paint Shop Pro, version X.03. It should be okay to do with other versions as well. I just find X.03 more comfortable for me. You may download a free trial of Paint Shop Pro, version X2, from Corel. Any similarities between this tut and any others you may see are purely coincidental.

You will also need:

Tube of your choice. I've chosen to use the fantastic artwork of Val Aren. You must have a license to use his art. You may purchase that license at My PSP Tubes.

Scrap kit is by Queen Brat of Queen Brat Designs. The kit I'm using is PTU and called Go Red For Women, to help promote the American Heart Association's "Go Red for Women" day. This kit was free when I got it over the weekend, but just as I'm typing this, I see that she's taken the free link down, and is now pointing folks to her store. Sorry about that! I should have been quicker. There is a taggers' size and the scrappers' size.

No filters used in this tut!

Font: I used Affair

No extraneous supplies for this one, either!

Okay, let's start! This is a quick-n-easy one!

Open a new image, 700 x 650, white.

Open Frame02. Copy and paste as new layer. Resize 75%. Drop shadow

Open Heart01. Copy and paste as new layer. Resize 95%. Drop shadow.

Open Heart03. Copy and paste as new layer. Resize 65%.

Open Paper05. Copy and paste as new layer, under Heart03 but over Heart01.

Highlight your frame layer. Grab your magic wand and click inside the frame. Selections > Modify > Expand by 5.

Selections > Invert

Highlight paper layer again and hit delete.

Drop shadow your frame.

Add your tube of choice. Position and drop shadow.

You can use any of the embellisments to build your tag from here. I used the Butterfly01 first. Resized by 40%. I chose to have it just sitting on the tube's knee. Drop shadow.

Open Flower02. Copy and paste as new layer. Resize 30%. Position where desired. I duplicated this layer and arranged them side-by-side. Drop shadow your flowers.

Open Tag03. Resize by 50%. Add your name onto the tag. Then resize it again by 50%, ALL LAYERS CHECKED! Copy merged and paste as new layer. Drop shadow. Rotate left by 15°. Position where you like! Grab your selection tool, set point-to-point, and select a small portion of the top "rung" of the safety pin on the tag. Hit delete. Selections > Select none.

Now, I chose to add the text, "Valentine me, Baby." You can use that, or go out on your own.

Add your copyright, license information if applicable, and tagger's/watermark.

We're done! Told you it was easy!! :)

.